OMC MED ENERGY 2023 is set to take place at the Pala de André complex, located on the eastern outskirts of Ravenna, Italy. This venue offers a spacious area of over 25,000 square meters, specifically dedicated to hosting the event. Being one of the largest and most prominent gatherings in the energy sector, OMC MED ENERGY 2023 aims to accommodate numerous attendees, including key players from the energy industry.
The venue has been designed to cater to the needs of the event, providing a purpose-built networking space. This area is intended to facilitate business interactions and create opportunities for forging new connections. Additionally, the venue offers various on-site services to ensure the comfort of the participants. These amenities include comfortable meeting spaces and facilities to conduct business activities effectively. Furthermore, attendees will have the opportunity to attend a range of conference sessions and workshops, providing valuable insights and knowledge sharing within the energy industry.
With its strategic location just a 5-minute drive from Ravenna's city center, the Pala de André complex provides convenience and accessibility to the event attendees.
VENUE MAP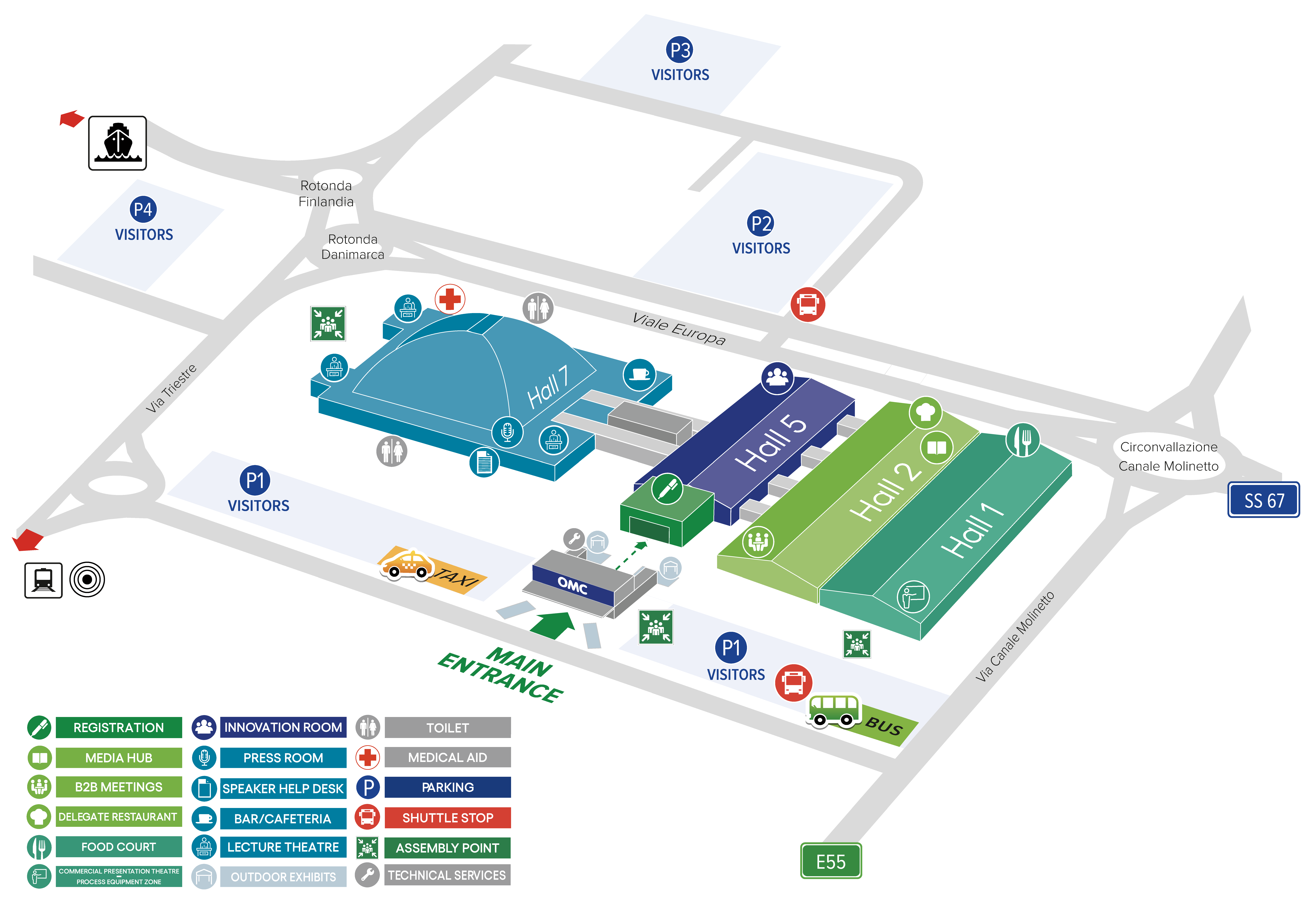 Here is a breakdown of the different areas within the complex:
Hall 5: This is the main entrance hall for the event, and it also houses the Innovation Room. The Innovation Room serves as a versatile space dedicated to various activities, including Startups, Energy Hackathon, and the Call4Ideas Med. These initiatives focus on fostering innovative projects, ideas, and collaborations in the energy sector, particularly in the Mediterranean region.

Hall 7: This hall is designated for the technical conference rooms and the plenary session room. The technical conference rooms are where specialized sessions, presentations, and discussions related to technical aspects of the energy industry take place. The plenary session room is where major keynote speeches and important sessions involving all attendees are held.

Hall 2: This hall is specifically dedicated to the B2B Energy Business Meetings. It serves as a space where national and international operators can engage in business-to-business meetings, fostering networking and collaboration opportunities in the energy sector.

Hall 1: In this hall, you will find the Food Court, which offers a place for attendees to relax and enjoy refreshments during breaks. Additionally, the Commercial Presentation Theatre & Process Equipment Zone is located here. This area serves as a networking space for exhibiting companies to deliver presentations and demonstrations about their latest technologies, products, or services related to the energy industry.
These various areas within the venue aim to provide a well-rounded experience for attendees, combining networking opportunities, knowledge sharing through presentations and sessions, and spaces dedicated to innovation and business collaborations.
To obtain the exhibition floorplan, which includes information on available spaces and exhibiting companies, please contact exhibition@omc.it. A member of the IES Sales Team will promptly get in touch with you to assist you further.