OMC - Your Key to Unlock the Mediterranean Energy Hub



Pioneering the Energy Transition: OMC - Unleashing Technology and Innovation for Industry Leaders
For nearly three decades, OMC has stood as the unrivaled platform driving the energy transition through cutting-edge technology and innovation. This premier industry event has been instrumental in propelling countless companies to unprecedented growth and success, offering unparalleled networking opportunities, dynamic B2B matchmaking, and invaluable insights into the latest sector trends.
Gathering operators, suppliers, policymakers, international corporations, and ambitious start-ups under one roof, OMC creates the ultimate hub for industry convergence and fruitful business collaborations.
Join CEOs, analysts, engineers, entrepreneurs, ministers, project managers, and government officials at OMC, where your corporate and project aspirations will find their catalysts. Discover the influential connections and expertise you need to soar towards your goals with confidence and purpose.
DOWNLOAD OMC FLOORPLAN CHECK THE OMC EXHIBITOR LIST
18,000


ATTENDEES

12,000
VISITORS

1,000
DELEGATES

600
EXHIBITING COMPANIES

30
SPONSORING COMPANIES

20
SUPPORTING ASSOCIATIONS

25
NATIONS

45
MEDIA PARTNERS

25,000
SQ.M. SPACE
OMC: Your Gateway to Clean, Reliable, and Accessible Energy Solutions
OMC stands as the grandest convergence point, bridging the Southern and Northern shores of the Mediterranean Sea, as well as East and West. In today's energy industry, characterized by its pursuit of cleanliness, reliability, and economic accessibility, OMC provides the perfect platform to showcase your utmost efficiency and elevate your market presence to new heights.
Seize the opportunity to:
Connect with investors and forge impactful partnerships.
Expand your network and establish valuable contacts.
Gain access to decision makers and industry specialists, laying the groundwork for future agreements and contracts.
Attract top talent and recruit the brightest minds in the field.
Facilitate fruitful B2B meetings that can drive your business forward.
Don't miss your chance to shine in the international energy industry. Join us at OMC and unlock unparalleled opportunities for growth, collaboration, and success.
OMC ATTENDEES BREAKDOWN BY INDUSTRY SECTOR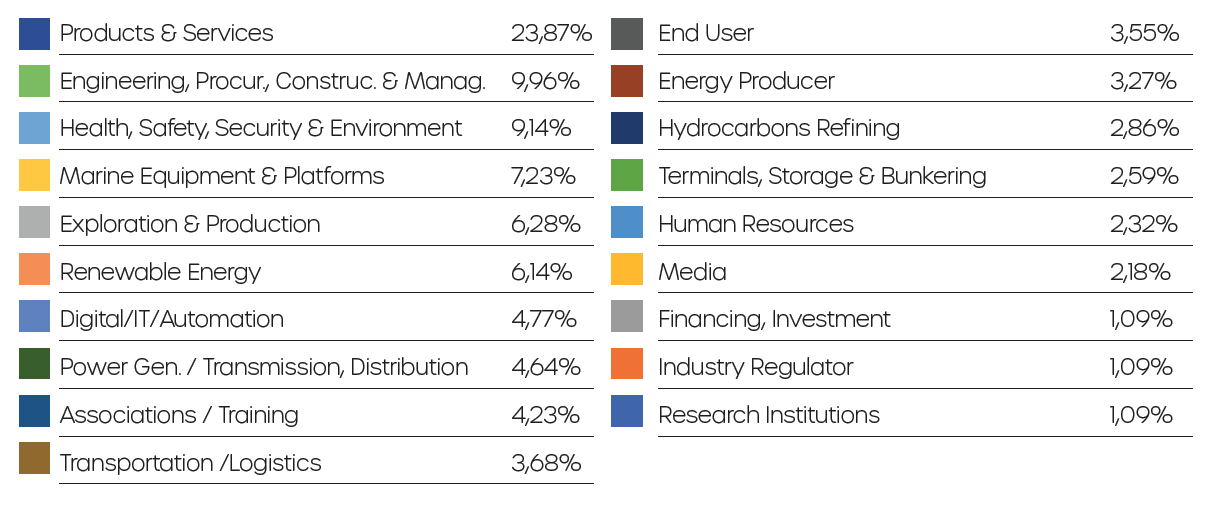 OMC ATTENDEES BREAKDOWN BY JOB FUNCTION

| | |
| --- | --- |
| SALES | 26,54% |
| SENIOR & C LEVEL | 15,54% |
| BUSINESS DEVELOPMENT | 14,32% |
| R&D, TRAINING | 14,21% |
| MANUFACTURING, PRODUCTION, PURCHASING | 12,56% |
| MARKETING & COMMUNICATION | 7,47% |
| ACCOUNTING & ADMINISTRATION | 3,02% |
| IT&DATA PROCESSING | 2,07% |
| LOGISTICS | 1,83% |
| HR DEPARTMENT | 1,44% |
| LEGAL MANAGEMENT | 1,00% |
SPACE BOOKING APPLICATION DOWNLOAD OMC BROCHURE
OMC sales team is at your disposal to find the best participating option for your company!